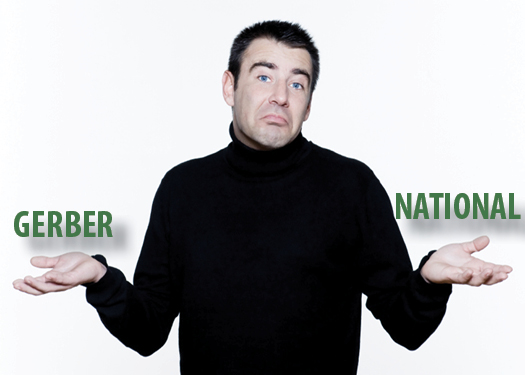 When it comes to building a custom home in the eastern Rochester area, you have choices. Your choices go beyond things such as what style home you want, what floor plan you decide you want and what finishes you decide to build into your home. One of the biggest choices you'll make is who will actually build your dream home. Is there a reason to choose a local custom builder like Gerber instead of a nationally known builder?
To be honest, there are legitimate reasons to choose either—but it depends on what you really want and what's important to you. Let's look briefly at the reasons for both.
You might consider a national builder (what the National Association of Home Builders refers to as "production-based builders") if one of your main concerns is budget. Their size brings them certain economies of scale, so they can purchase land and materials in volume. That helps them keep prices down somewhat. They also tend to build larger developments. Some homeowners prefer being in a development where there is more "consistency" in the look of the neighborhood.
On the other hand, a local custom builder tends to work on a more personal level. Local builders know the area—and that means they are often more sensitive to which areas are best suited for the development of new communities. And local builders are often aware of land for sale that national firms simply aren't aware of. At Gerber, we even have a special service that helps you locate land for sale that's not on the "radar" of the national firms.
On top of that, in general, a local builder can be more flexible when it comes to modifications to a floor plan. And that's what custom building is all about.
Many homeowners prefer dealing with reputable local companies, because they know someone will still be there to help out after the project is completed. When issues arise (and there are always minor issues that need to be addressed) the homeowner is dealing with someone close by instead of dealing long distance on the phone.
There's also a community aspect that comes into play for local builders. They live in the same communities you do. And when you take pride in your community, it shows in the work you do. On top of that, money spent locally stays local. It's a significant way to support and stabilize the local economy.
There are legitimate reasons to choose a national firm or a local custom builder. It really comes down to what's important to you. We'd love to show you why the personal attention we give to our customers really makes a difference. And if you're looking for ideas or "first steps" in the homebuilding process, we invite you to download our free custom home guide: Steps to Building Your Dream Home. You'll find plenty of help to get your dream home on the road to reality.