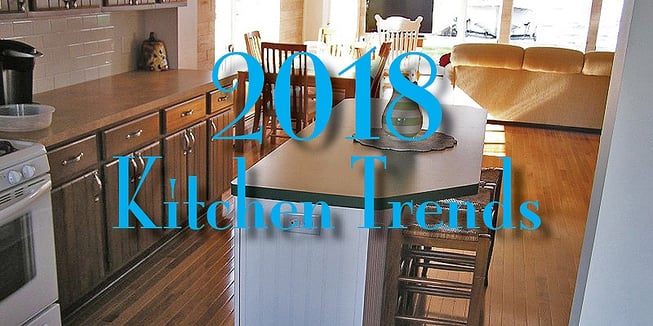 As we approach a New Year many of us wonder what new trends will be heading our way when it comes to home design. One thing that won't be changing is that the kitchen will remain the heart of the home. It's no surprise that it continues to be one of the most remodeled spaces in the home. So, what's trending in kitchens for 2018? Here are a few observations we recently gleaned from the National Association of Homebuilders.
Kitchen Islands Will Continue to Be Popular.
Increasing numbers of homeowners want larger kitchen islands. Part of the reason is that they are so versatile. They're great for food preparation and casual dining. And for those who enjoy entertaining, they can serve both purposes at the same time. The person cooking isn't cut off from guests. Some homeowners are even opting to do away with the traditional kitchen table—replacing it with a larger island that offers seating capacity. It's a more efficient use of the available space and it helps to make the kitchen feel more open.
Open Floor Plans Aren't Going Away.
Even though they have been around for a while, open design floor plans continue to be extremely popular. Homeowners want their kitchen, dining room, and family room to be open to one another. It's a way for families to be together even if family members are in different parts of the "Great Room." It's also great for entertaining because it allows guests to freely move from space to space—and the host or hostess is never isolated. Of course, when all rooms are visible to one another, it's essential that the space be well-designed for functionality and style. That means having a kitchen that looks great but is also convenient and efficient.
Some Shifts Are in Store.
There are a few new wrinkles when it comes to what people are putting into their kitchens. There seems to be an increase in features such as warming drawers, steam ovens, and induction cooktops. Induction cooktops are very energy-efficient and look great. But keep in mind that some of your older pots and pans may not work on a new induction cooktop. That may mean purchasing some new cookware. It's not a huge expense, but it can be a bit of a surprise. The advantage is that you'll have great-looking cookware to go with your beautiful new kitchen! When it comes to appliance colors, stainless steel keeps going strong—although it's being challenged by the newer "black stainless" appliances. And while there are some who have declared the demise of white kitchens, they remain popular because they make the room feel so bright and open.
Storing Your Stuff Remains Critical.
As popular as open concept kitchens are, kitchen clutter can be a real challenge. Streamlined cabinets and countertops look great, but where will you store all of your stuff? There are numerous innovations in cabinetry that allow you to stow things away and out of sight more easily. Deep, pullout shelving makes it easier to store more in your lower cabinets—and access things more readily. Some homeowners are also turning to their mudrooms for extra kitchen storage. Another option is to opt for customized cabinets that take advantage of "skinny spaces" for storing things such as baking pans or awkwardly sized utensils.
Regardless of what the prevailing trends may be, one of the most important things to consider when building a new kitchen or remodeling your existing kitchen is how to end up with a kitchen that matches your sense of style and your lifestyle. Here's a helpful post that helps you think through how to make that happen.