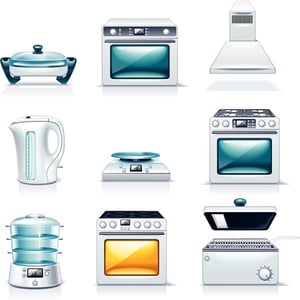 There's no question that the way we use our kitchens has changed the way they look. However, it's not just the cabinets and countertops that have changed. The appliances we use in our kitchens today are dramatically different as well. They've become pretty darn smart. Here's a quick look at some of the appliances that remind us that "This isn't your grandmother's kitchen!"
Smart Scales: Grandma used her kitchen scale to weigh ingredients. That's a great start, but now you can select a recipe and then use a scale with a Bluetooth connection to your iPad to follow the instructions and weigh out exactly the right amount of each ingredient. The scale will tell you when you've added the right quantity.
Smart Ovens: You're probably on the go a lot more than Granny was. But with a smart oven (LG makes a smart oven you might want to check out), you don't have to let your hectic schedule interfere with cooking or baking. Monitor and adjust your oven's temperature from any location using your smartphone. If you need to, you can even preheat your oven remotely. And if you can't remember the appropriate temperature for a particular recipe, you can pull up the recipe stored in the oven's memory, and the oven will set the temperature for you!
Smart Refrigerators: Pretty much any refrigerator will keep your food cool. But that doesn't guarantee that your refrigerator will be well-stocked. LG makes a refrigerator that lets you scan your receipt from the grocery store so that your refrigerator can remind you if you're getting low on certain items. It can even notify you if you have items that are passing their "best-used-by" date.
Maybe you'll never improve on your grandmother's recipes, but some of the new kitchen appliances sure make it easier to try! And if you're looking for other ideas to make your kitchen more useable and enjoyable to work in, check out our free eBook, Creating the Ideal Kitchen for some helpful tips.