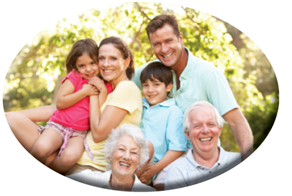 There's an interesting trend developing in the United States, and it's affecting the way people build and remodel their homes. According to the folks at Pew Research, back in 1900 57 percent of all American adults 65 and older lived with relatives. As American society changed, that number went down to only 17 percent by 1990. Then it began climbing again. Right now, it is up to 20 percent—and rising. And an interesting twist is apparent on the other end of the age spectrum. We're also seeing an increase in the number of adult children (many, with children of their own) moving back in with their parents.
Obviously, bringing a multiple generational family together under one roof takes a bit of planning. Aside from the simple space issues, most existing homes simply aren't set up to accommodate the varying needs of a family with such a wide age span. Homeowners need to think about what younger children and more mature family members need to be safe and comfortable. Of course, in addition to safety and comfort, providing enough private space for everyone is also a challenge.
The point is, there's more to adding an "In-Law Addition" than simply adding extra space. So if this is something you're considering for your family you'll want to make sure your builder has a good plan—and has the experience to bring that plan to fruition.
At Gerber Homes, we're no strangers to "In-Law Additions." We've got the plans, the equipment, and the experience to add additional living space to your home to make it a multi-generational home that all generations can enjoy. We invite you to
take a look at a few of the projects
we've completed for other families in the Rochester area. And once you take a look, you can even download the floor layout for a better idea of what's possible. Or you can
contact us
with any questions you have about building or remodeling. We're happy to help!