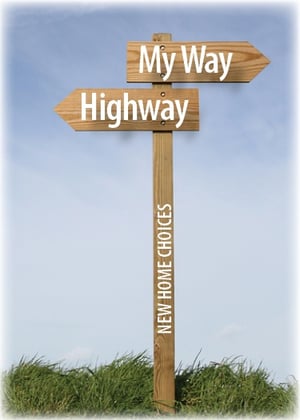 If you've begun the search for a new home in the Rochester area, you may occasionally feel as if your options are awfully limited. There are times when it seems that the choices builders offer you are: "My Way" or "The Highway." That's not much of a choice!
When you're selecting your new home, there are a few things that are really important: The Place (location), the Plan (design), and the Property (surroundings). You should be the one who gets to pick what fits your preference and your family's lifestyle.
Places
Where you live matters—a lot. You may want to be close to work. You may like the schools in a certain area. Maybe you have family or friends in the area and you want to stay close. Or you just may like the feel of a certain community. Whatever your reasons,
you
need to be the one to choose what's right for you. That's why
Gerber Homes has communities
in Webster, Canandaigua, Perinton, Ontario, Macedon, Mendon, Sodus, Ionia, Williamson, Farmington, Penfield, Victor, Marion, Huron, East Bloomfield, Rush, and Fairhaven.
You
get to choose.
Plans
The style of the home you build and the specific layout of your home is also really important. Sometimes, however, you may run into situations where a builder only builds a few styles of homes—and doesn't offer much in the way of differing floor plans.
Gerber offers a wide variety of styles and plans
, including: Colonial (more than 50 plans), First-floor Master Bedrooms (5 unique plans), Patio Homes (9 different plans), Cape Homes (7 great choices), and In-Law Layouts (10 distinct options). Again, it's
your
choice.
Properties
The location of your new home is much more than just the address. You want to live in a place that feels right for you. Not everybody has the same desires, however, when it comes to their surroundings. That's why our selection of lots and communities includes: Lakeview and wooded homes, Meadows, Walkouts, Patio homes, country settings, established communities, golf course communities, open space and walking trails, acreage, open space, and park views.
When it comes to deciding on your new home, choice is a beautiful thing. It's your home and your future, so make sure you get to make the choices you want about the place you want to live, the plans you want, and the property you'll live on.