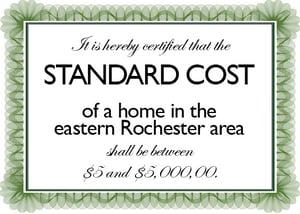 If you're considering building a new home in the eastern Rochester area, you've probably given some thought to what that is going to cost you. If you're like most people, you wonder what the right price is for the home you want. Is there such a thing as a standard cost for a custom home in the Rochester area?
You can go to a site like trulia.com for an overview of prices in the region. They even offer price-per-square-foot information and the median rent per month for the area, so you can compare the cost of renting versus buying. You'll notice there is a disparity in pricing as you move from Rochester itself to areas such as Webster, Ontario and Marion.
All that information, however, is of limited value if you're considering a custom home. By definition, a custom home is unique. How can you attach "standard" pricing to a home that offers much more than the standard features and quality? And how do you arrive at the right price for the home you want to build?
It's helpful to start with a floor plan, finding the layout and amount of space that truly matches your lifestyle. Click here to check out dozens of plans in a wide range of styles and sizes. Then discuss with your builder the location you have in mind and the particular features you want in your home. It's more productive to speak in specifics than broad generalities.
Another important step is to establish a realistic budget for your new home. When we talk about a realistic budget, it means taking an honest look at your finances to determine exactly how much home you can afford. It's a good idea to meet with a lender before you get too far into the process so you know exactly how large of a mortgage loan you qualify for. That will help you narrow down your choices. It's pointless to look at homes you can't afford.
The flip side of this is setting a budget that's unrealistically low. If you do that, chances are, you'll be disappointed with the home you build. Here's a post that goes into a bit more detail on both of those issues.
There is no standard cost for a custom home in the Rochester area. But that doesn't mean you have to be in the dark about what your home should cost. Set your budget and talk to a trusted builder about exactly what you can get for your budget before you start building your dream home.