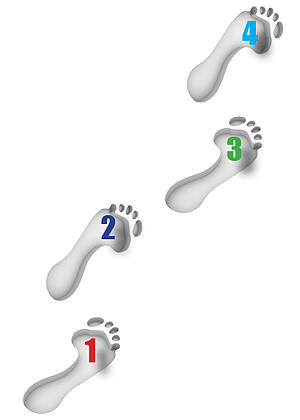 There's an old German proverb that states: "All beginnings are difficult." That seems to be true for a lot of endeavors—and building a new custom home in the Rochester area is no exception. There is so much think about when it comes to building the home you've always dreamed about that it's easy to get overwhelmed—and stuck—before you even get started.
If building a home to your own specifications appeals to you (and there are a lot of reasons people like this idea) there are some steps you can take to get the ball rolling. Of course, if you're interested in a custom home, you may not approach the process the same way as everyone else does. The good news is that you don't have to. Here are four distinct ways to get moving and to collect the information and ideas you want and need if you're going to create the home of your dreams.
1. Start With a Plan: For some people, a visual floor plan is extremely helpful in deciding how they want to organize their future home. Getting a visual picture of how the rooms relate to each other and flow into each other helps them think through the specifics of how much space they need—and how it should be arranged. If that helps you organize your thoughts and move forward in the homebuilding process, we've got plenty of floor plan options from which to choose—whether it's a colonial style home, a 1st floor master bedroom home, a patio home, a ranch style home, or a Cape style home. Comparing styles (and options within each style) can help you choose the right direction for your family's lifestyle.
2. Browsing for the Best Ideas: Some of us like to see images of the "finished product" or take a look at innovative ideas for what our perfect home could look like. If seeing what others have done gives you great ideas of your own, you may want to browse sites such as houzz.com or HGTV.com. You don't have to copy what other people are doing, but it can get your creative juices flowing.
3. Understanding the Process: There are significant numbers of homeowners who want to understand the basic process of building a custom home before jumping in. They like to know what they're getting into, what options they have, what pitfalls to avoid, and how the whole process works. If that describes the way you operate, you might want to download our free Steps to Building Your Dream Home eBook. In addition to helping you understand the steps involved, it will also provide you with some great design tips.
4. Do a Physical Walk-Through: For some of us, nothing beats actually walking through a finished home in order to see how things really look and feel. And even if there are some things that you'd do differently, physically walking from room to room can provide the most realistic impression of what your dream home might feel like. One of the best ways to do that is to check out a model home. We've got several models you can explore. If you want, you can take a virtual tour first—just to see if a closer, in-person tour is warranted.
All beginnings may still be somewhat difficult, but there are steps you can take that make getting started a whole lot easier!