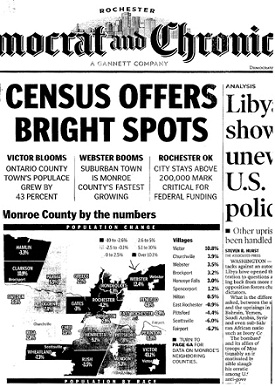 The census reports are in, and Webster, Ontario and Victor came back with flying colors.
You remember taking the census. A year ago, it seemed like mindless questions to answer, questions that had very little to do with our daily lives.
How wrong we were. The census results give us a report on where we live. Politics and budgets aside, the census results help us see change.
Take for instance a recent Democrat and Chronicle article. Front page, no less. Webster NY: "Suburban town is Monroe County's fasting growing (area)." Ontario County: "Town's populace grew by 43 percent."
So what does that really mean for us in Rochester NY and her suburbs? Basically, we're growing up, and demanding New York State take notice. We aren't the sleepy little lake and wine region anymore. We are the perfect mingling of work and play. Commerce and Get-away-from-it-all.
Take for instance Webster NY. The Democrat and Chronicle article quotes a life long Webster resident. "Webster now has almost everything residents need, from restaurants and retailers to grocery stores. You don't have to leave the town for much of anything."
Ontario County can boast the same. The article quotes an economic development specialist "This is sort of the plan we've been working on for years to keep Ontario County as attractive a place as possible to do business, and as a result of that encouraging people to live and work in our county."
A lifelong resident of Victor says "I remember when the population was so low that businesses didn't really look at Victor as a viable market…But now more restaurants and businesses look to Victor as a new location."
So what does that mean for us? It means that living in Webster, Ontario, Canandaigua, and Victor means a short commute to work, and home to the lakes, vineyards, and outdoor activities we love. That most people around the country only dream about.
Gerber Homes, a new home builder, has their hand on the pulse of county planning. With an eye to the future, they started establishing communities in Webster NY, Ontario NY, Canandaigua NY and Victor NY, long ago. Click to see where they are building now.
Or, if you just want remodeling or additions to your existing dream home, Gerber Homes is there for you. Adding In-Laws apartments, larger kitchens or baths. There isn't a job Gerber Homes hasn't done many times over.
Give Lisa in Webster, Sharon in Canandaigua, Leanne in Ontario, and Mike in Victor, a call. Walk through their model homes, and see why it's better than ever to live in our area.