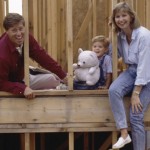 Gerber Homes is offering an amazing deal. Free rent while you build your new home.
This is an unheard of offer, and we're not sure how long it will last, but it's too good to pass up.
Building and moving always seem to be a timing game.
In many ways, you have more control over the timing when you build a new home, than moving into an existing home. With an existing home, you're at the mercy of the other owner. They don't want to move until their home is ready. Meanwhile, the new owners of your home want you out.
This often leaves families scrambling, or renting back a home they have owned for years. Many families don't have a choice, and rent an apartment until they can move into their new home. This wait can take months, and eat into money set aside for appliances or new carpeting.
It's easier when you build a new home. Or at least it is with Gerber Homes. Gerber Homes has built home for 60 years. They know exactly how long it will take to finish your new home. This gives you time to plan.
But sometimes the buyers of your existing home are pushing you to move out. Gerber Homes has you covered. They will let you live in one of their beautiful apartments, RENT FREE until your new home is finished. RENT FREE.
Say it after me… No rent. Beautiful apartment. Peace of mind. FREE.
Now, just as a disclaimer: This offer is valid as long as an apartment is available. But don't worry, Gerber Homes has many.
Want to know more about building a new home? See floor plans? View Model Homes? Have questions?
Contact Sharon in Canandaigua NY, Leanne in Ontario NY, Mike in Victor NY, and Lisa in Webster NY. Gerber homes makes it easy to build the home of your dreams.