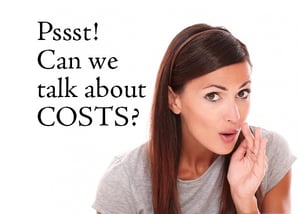 Many of us grew up hearing that it just isn't polite to talk openly about money. That's probably still good advice in most social situations. But it's terrible advice if you're in the process of building a custom home. It's essential that you talk about costs with your builder. Nobody wants surprises in the final bill!
There is, of course, a right way to talk about money and costs with your builder, and it begins with having the right goals and objectives. Keep in mind that your goal is not to build the cheapest house possible—it's to build the best house possible within your budget. What you're really after is value.
So how and when should you talk to your builder about money? There are two key times when it's important to have frank conversations with your builder about costs.
Start up front when you're looking at floor plans and gleaning ideas about the house you want to build. Be honest with your builder and create a realistic budget. Don't plan for a home that's out of your range and don't set your budget artificially low. If your builder knows what your range is he can work with you to give you the most bang for your buck. Here's a helpful post that talks about how to create a realistic budget for your new home.
When you're in the process of building, you may want to make some modifications. This is where it's essential to talk about costs. Talk to your builder about the changes or modifications you want to make and ask for suggestions about the most cost-effective way to accomplish your goals.
Quality builders who have been around the block a time or two often have ideas about how to give you what you really want that may be less expensive than the ideas you suggest. Take advantage of your builder's expertise and experience!
Your builder may give you several options that will accomplish what you want. That's when you need to talk about costs again. Different options may have different price tags, and you'll have to decide which one fits your budget. Reliable builders usually insist on a written change order to make sure that both of you understand exactly what the change will cost.
You may want to check out this article about how that kind of conversation with your builder might look. This is helpful information for keeping your building budget from creeping out of control.
Not only is it acceptable to talk to your builder about costs—it's essential! It begins by matching your expectations with your budget before building begins. And it also includes having open and honest conversations with your builder about changes you might want to make to the original plan.