With only two working days to go before Homearama 2010 in Penfield NY, the Water Song neighborhood is changing rapidly. Homearama trailers and tents are being set up, and around the Gerber Home, contractors are busy with last minute details.
The first thing I felt at The Springwater, our Gerber Homes model home, was peace. I saw Len Sorbello from Wayside Garden Center and his crew planting flowers and pruning roses. The landscaping looks incredible.
I didn't realize that Wayside Garden Center also put in the beautiful walkway! I have admired this for a couple of weeks now. It is SO much better than walking on hills and valleys of dirt to get to the home. I don't miss those days, but still, it has been a blast to see The Springwater being built.
I walked into the home and was amazed. Barbara Jean Furniture has been here! The furnishings are incredible. The colors are rich and accent the rooms. Gerber Homes has built each room to have it's own character. The couches and beds, desks and lamps, just make you think of relaxation and home.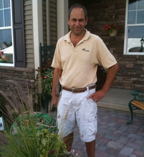 I looked at the deck Wade Osterhout and Derek Gerber (son of Bruce Gerber) built. The new owners will be able to eat dinner and relax on this second story deck. There are stairs going down to the backyard.
This new home will be perfect for entertaining. The deck is beautiful, made from material that will require little or no care. I want Wade and Derek to build me a deck!
Did you know Gerber Homes also builds additions? More room for living, a Master Bath you'll love. A first floor Laundry Room. A deck like The Springwater's. Maybe Wade and Derek will even build yours!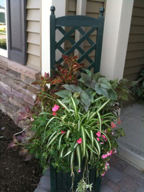 In any case, if you're thinking about additions or remodeling, give Gerber a call at (888) 437-2373. If you'd like to read what others have said about their Gerber Homes experience, click here.