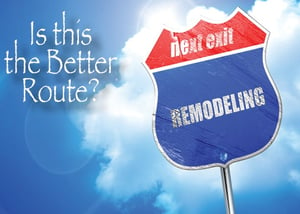 There may come a time when the Rochester-area home you're living in no longer meets your needs. Maybe you have more children than when you first moved into your current house. Or perhaps those kids just got bigger and need more space. Or it could be that you have an extended family member living with you now that you didn't plan on. Whatever the reason, you may find yourself at a crossroads when it comes to your housing needs. Should you look for a new home or should you remodel the home you're in? Which is the better route for your family?
At Gerber Homes, we build new homes and we remodel existing homes. Let's look at a couple of times when remodeling may be the better choice.
You Don't Want to Move: Let's face it, moving is generally not on most peoples' list of fun things to do. It's disruptive and hard on family members and on your possessions. There's an old saying that, "Three moves equals a fire." While that may be difficult to prove, there's no question that packing, transporting, and unpacking a househould causes increased wear and tear on furniture and other household items.
There are other reasons why moving may not be the best option. It takes time to establish relationships and routines. If you have great neighbors and you've developed a sense of community where you are, it's not easy to give that up and start over again. Depending on your new location, you may have to re-establish relationships and find new places to shop. While that's not an insurmountable obstacle, it's still something to consider.
Moving can also be hard on children. While kids do tend to be pretty resilient, it can be hard on them to pull up roots and start over. That's particularly true for school-aged children. If you have a school you (and your kids) are happy with, it can be hard to leave that behind.
It's Not in the Financial Cards: Buying a new home is a big financial investment. While housing prices dipped around 2008, they have been making their way back up. One of the biggest contributing factors is the increasing cost of land. It's become more expensive to find land that is suitable for building. And while you'll certainly pay for remodeling services as well, at least you won't be wrestling with increasing property prices.
If you're looking for additional insights on whether building or remodeling is the right route for you to take, check out this article that lays out more of the pluses and minuses of building, remodeling, or buying another existing home.