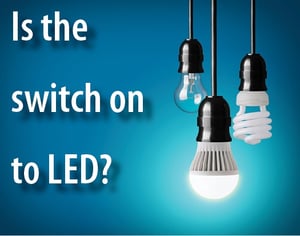 Trying to keep up with changing technology is a challenge—even when it comes to building a new home. These days there is more and more discussion about "smart" homes that control everything from your heating and cooling systems to your window shades and what music is playing throughout your home.
Even in areas that you'd think are fairly straightforward—such as what kind of light bulbs to use—things aren't always as simple as they seem. Not that long ago, we were hearing about how CFL bulbs were going to replace conventional incandescent bulbs. But LED (Light Emitting Diode) technology seems to have leaped over that technology as the preferred lighting style. So should your new home go LED?
The benefits of LEDs over incandescent bulbs are pretty compelling. While most incandescent bulbs convert only 10 percent of the energy they use into light (the rest produces heat), LEDs turn 95 percent of energy into light. They're simply much more efficient. They use less energy and they don't generate unwanted heat. On top of that, they last much longer (the average life for Energy Star-certified LED bulbs is about 20 years).
Will you pay more for LED bulbs? Initially, yes. But pricing on LED lights continues to drop, and over time, you'll save money. You might pay $6 for a 60-watt equivalent bulb, but you'll have your money back within a year. And when you think about not having to change that bulb for 20 years, the savings start adding up quickly. By the way, Energy Star™ estimates that switching just one bulb from incandescent to an Energy Star LED will reduce your energy consumption by 70 to 90 percent and save approximately $30 to $80 on utility bills over the lifetime of the bulb.
Many homeowners also prefer the quality of light they get from LEDs to CFL bulbs and even traditional incandescent bulbs. The "cooler," brighter light from LEDs is actually closer to natural light. We already mentioned that LEDs give off less heat than conventional bulbs, but that's something to keep in mind if you have closed in spaces that need to be lit without generating a lot of heat.
Should you opt for LED lighting throughout your new home? That's a choice for you, but it's helpful to begin thinking about the costs and benefits. Gerber Homes was one of the first builders in the Rochester area to become a certified Energy Star builder. We care about giving you the best products built, using smart, innovative and energy efficient construction techniques that add value to your home while saving you energy. We're happy to talk to you about ideas for making your home more comfortable and energy efficient!