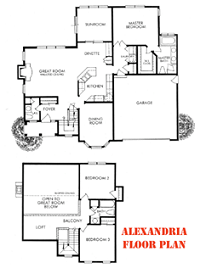 If you're thinking about building a home in the Rochester area one of the first things you'll need is a plan for the builder to use. We're not just talking about a rough sketch of what you'd like the home to look like. We're talking about specific plans that the builder can use to actually build your home.
When it comes time to build, should you use a ready-made plan or a custom design? That depends on what you need—and can afford. If you have a good sized lot that doesn't have restrictive setbacks, finding and buying a ready-made plan may work well for you. Ready-made plans are generally designed with specific lot sizes in mind. If the lot you're building on is long and narrow and your plan is for a lot that is wide and shallow, that could present problems.
Some builders offer a complete design/build package. They evaluate the shape and size of the lot and create a design that coordinates those things with the homeowners' needs and wants. It doesn't necessarily cost more to create the design this way. And sometimes the builder can even discover cost savings over a ready-made plan that requires major modification.
Some builders will only build with plans that they provide. That's important to remember when you're considering which contractor will build your home. At Gerber Homes, we can provide plans for you—or we can build with your plans.
Whether you're looking for Colonial, Patio Home, Ranch, Cape, or something else, chances are, we've got something that will work for you!
Take a look for yourself
. Your plan or ours—we'll help make your dream home a reality.