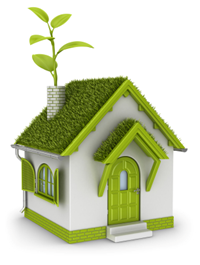 Not all that long ago building an environmentally friendly, energy efficient, "green" home was an idea that only had appeal for a relatively small, select group of people. A lot of homeowners and builders wondered if the concept of building green was just a fad.
It would appear that "going green" is a fad that refuses to fade. And for some families in the Rochester area, the savings they realize by choosing an Energy Star home can make the difference between affordable housing and waiting to buy. That's now surprising, when you consider that energy bills for an Energy Star home can run 30 percent less than conventional homes. And the savings are even more dramatic when compared to energy consumption for homes built in the 1950s.
Of course there's more to energy efficiency than simply saving money on your energy bills. We've seen more and more homeowners in the Rochester area who are aware of the environmental impact their homes have. They want to leave a smaller footprint.
That increased awareness isn't showing any sign of slowing down. As a matter of fact, the New York State Energy Research and Development Authority confirms that the number of Energy Star homes built in New York between 2006 and 2010 is 42 percent higher than it was in the years 2001 through 2005.
At Gerber Homes, we're committed to providing homeowners the kind of energy-efficient homes they're looking for. That's why we build our homes with efficiency in mind in order to meet stringent Energy Star standards. It's why our homes feature low-e windows that absorb and reflect radiant heat, and have extra insulation in the attics. Of course energy efficient windows and insulation are only part of the solution. Adequate insulation helps with efficiency and provides better indoor air quality to make your home a healthier place to live.
Green building isn't going away. And neither is our commitment to building energy-efficient homes. If you'd like to know more about how Gerber Homes can help you build the green home of your dreams, please
drop us a note
!