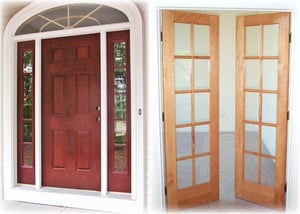 Your doors may not be the first thing you think about when you're considering building a new custom home in the Rochester area. Your front door, however, will very likely be the first impression guests have of your home when they visit for the first time.
If you're building a custom home, why would you want to have a generic front door? The entrance to your home is your first chance to make a personal statement of style. And the options are nearly endless. You can choose between a single or a double front door. You can opt for a traditional squared-up front door with simple, straight lines. Or you might select an entryway door with decopage windows to add a little flair. Perhaps a door with a transom and sidelight windows will give you the look you're after (and let extra natural light into your entryway). Or you could use color to make an impression.
Doors are more than passages from the outside of your home to the inside. Interior doors inside your home also add character and interest to rooms. Interior french doors allow you to separate spaces inside your home while still allowing light to pass through. They afford privacy without making your home feel "boxed in." Sliding doors can also provide privacy and muffle sound when closed, and they have the advantage of not taking up space when the door is open. By receding into the walls, these "pocket doors" create an open passageway between rooms and allow you to move freely back and forth.
You even have options in the kitchenwith pantry doors. You can have a glass door that allows you to see into the pantry without having to actually enter it,or, if you prefer, you can have a solid wood door that provides a nice contrast (or complement) to your cabinets. We've even seen homes that use a chalkboard surface on the pantry door for keeping shopping lists and writing messages to family members. If you're building a custom home, you can use your imagination to come up with a solution that's practical for you and fits your sense of style.
We invite you to check out a few of the doors we've built into homes in the Rochester area. Maybe theses images will give you ideas of your own about the interior and exterior doors you'd like for your new home.