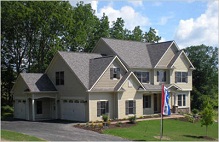 Why think about a model home? What are the advantages and disadvantages?
Many people think new homes can only be built during the summer. You know, after the snow has melted and the ground has dried. After all, who ever heard about a home being built during a snowstorm?
Times have changed. With the new tools, materials, and technologies available,
Gerber Homes of Rochester NY
can be seen building a new home year around. Actually, except for just a few days of extreme blizzards or deep cold, homes are being built.
Visitors often walk into one of Gerber Homes' model homes planning to build, and fall in love with the model! So, what are the advantages of purchasing a model home?
First, your home is move-in-ready. The hardwood flooring is in place, the grass already growing.
But there's more. Luxury items are added to these model homes. Those beautiful touches such as granite counter tops, a Bonus Room, or finished basement. Upgrades, galore.
Plus, Gerber Homes has a team of professional decorators that specialize in color schemes and lighting. A huge advantage over purchasing an older existing home and doing it yourself.
With Gerber Homes, you know your home is Energy Star efficient, and built with "green" practices. This means lower energy costs and state-of-the-art methods to reduce footprints.
Perhaps the only disadvantage of purchasing a model home is flexibility. Moving walls is more difficult in a model home, not impossible, but more difficult. So if your family could benefit from a tailor made home, remember, Gerber Homes builds year around.
Click here to see a list of currently available Model Homes from Gerber Homes.
If you are interested in building a new home, click here to see Gerber Homes communities.
Let us know if you have any questions, we would love to hear from you!
Click here for contact info.