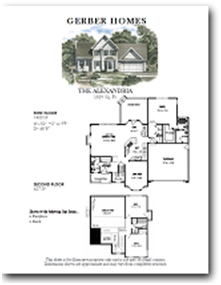 One of the big decisions facing individuals that are planning to build in the Rochester area is whether to use a ready-made home plan or to go with a custom designed plan. There are a couple of things that can (and should) influence your decision.
The nature of your lot can have a big effect on what kind of plan you choose. If you have a good-sized lot that doesn't have restrictive setbacks, it may make sense to look for a ready-made plan that you like. Most ready-made plans are designed for standard lot sizes. If, however, the lot you plan to build on is long and narrow and your ready-made plan was created for a lot that is wide and shallow, you could have problems. Lots with unusual characteristics often require custom plans.
Many homeowners want to modify their ready-made plans—at least to a degree. After all, you want your home to feel like your home. A good custom homebuilder can purchase the rights to a ready-made plan and make the modifications you want. Of course if you make a lot of modifications—you essentially end up with a custom plan anyway!

Some builders offer a complete design/build package. They evaluate the shape and size of the lot and create a design that coordinates those things with the homeowners' needs and wants. It doesn't necessarily cost more to create the design this way. And sometimes the builder can even discover cost savings over a ready-made plan that requires major modification.
At Gerber Homes, we're flexible. We can build on a lot of your choosing (even if you didn't buy it through us), or we can build on one of our lots. And when it comes to floor plans, we're equally accommodating! We can work with your plan or present you with an extensive collection of floor plans that we have available.
Or maybe your new home is just in the idea stage—and you want to see if there are existing plans that can bring your ideas to life. That's great, too! If you'd like to bounce some ideas off of us, we'd be happy to talk to you and help you sort through the choices you have. Just shoot us a note and let us know what you're thinking.
Whether you go with a custom design or a ready-made plan, we'll help you build your dream home.