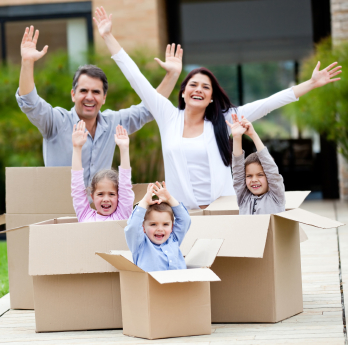 You hear people say it all the time: "Timing is everything!" It's certainly a big factor if you're planning to build a new home in the eastern Rochester area. When you're dealing with real estate, however, timing can be a little tricky. Sometimes the timing for selling your existing home doesn't line up perfectly with the move-in date for your new home. What do you do if your old home sells before your new home is finished?
Despite the smiling faces on the family in the picture, living out of boxes isn't all that much fun. And finding a short-term lease can be an expensive hassle. It's a situation we've come up against a time or two in our 38 years of building homes in the eastern Rochester area. We've come up with a solution that our clients think is pretty awesome!
We understand that if you have the opportunity to sell your existing home, you need to seize it. But that doesn't mean you should have to spend months in a cardboard box, or camping out with your in-laws. That's why, if your current home sells before your Gerber-built home is finished, we can give you the option of leasing any of our available rental properties on a month-to-month basis.
That way you don't get penalized for signing a short-term lease or for canceling a lease early. But we have even better news. You'll pay NO rent while your Gerber home is being built. You can check out some of the rental properties we have available here.
If concerns about where you'll live while your new home is being completed have kept you from moving forward, just contact one of our sales representatives for details on this "free rent while we build your home" offer.
Free rent is good. But free rent while your quality custom home is being built is a dream come true. We like to say: "We build dreams. Families live them." What can we build for you?