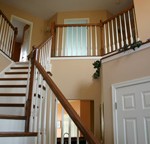 Staircases make a home. OK, originally, they were just for getting from one floor to another, but those days are dead and gone. Now, they make a statement.
If you're like me, you grew up in the typical post WWII cookie-cutter neighborhood. The homes, threw together quickly to keep up with diapered Baby-Boomers, were pretty much alike. Oh sure, the paint color was different, and there might be one with a brick front, but inside, your house looked like every other house on the block. Homes were made for function.
Gerber Homes is anything BUT a cookie-cutter new home builder in Rochester NY. I enjoy driving down a Gerber Homes street and looking at the creativity. No two homes are the same! There's a Ranch home next to a Colonial home, a Cape home beside a Patio home, and they all look like a loving family.
Lisa West, of the Webster NY Briarwood model has told me more than once: "We have many floor plans, but we have never built the same home twice." Oh, the education I'm getting! When I first started looking at new homes in Rochester NY, I would say to some of the home builders "Could you move this wall over a couple of feet?" I was shocked when I heard "No. The floor plans can't be changed."
Are you kidding me? It's MY house! Thankfully, Gerber Homes will never say this. Change anything you want on the floor plan, the sky's the limit. Now, that's more like it!
But back to those staircases. In Gerber Homes' Webster model, The Hemingway II, you walk in the front door, and you're greeted by elegance. This grand staircase winds it's way to relaxing bedrooms, spa bathrooms, and a Bonus room you have to see to believe. (We'll save the Bonus room for another post.)
Another thing Gerber Homes gets right. The stairs are finished in hardwood. Are you catching this? No more risking your life vacuuming stairs! I hate stair carpeting. First, you have to locate a stair-friendly vacuum. Usually this means one with a long hose. So, with hose in one hand, vacuum in the other, you inch your way up, while the electrical cord tries to send you into traction. Just for safety, you hold the cell phone in your teeth, 911 on stand-by.
Gerber Homes believes you have better things to do than spend 6 months in a body cast. With the hardwood flooring, you just take your Swiffer Duster, whisk a little, and 30 seconds later, you're on the couch enjoying a latte.
Probably the best way to see the Webster NY model home is to just stop over. Lisa West will be happy to show you around, or let you explore on your own. Once you see the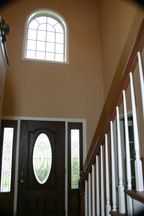 architecture of this magnificent home, you'll see exactly what I mean. The Webster NY model home is open Wednesday-Sunday, noon-5:00. Or give Lisa a call, and she'll meet you over there. By the way, the model home in Webster NY is for sale. Loaded to the gills with upgrades. Give Lisa a call to find out more! (585) 329-1922.