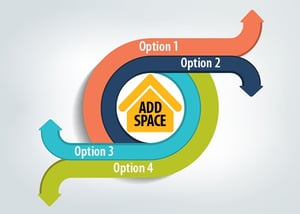 Whether you're buying/building a new home or planning to remodel your existing Rochester-area home, it's always good to keep the future in mind as you make plans for your current needs.
You may need an extra bedroom today for your growing family, but what about a few years down the road? How can you plan so that the additional space you create today will also be useful later on, after your kids leave home?
Maybe you've thought of working from home at some time in the future. You could convert a child's bedroom into a home office. But there's more to creating an effective and efficient home office than simply moving a desk and chair into an empty bedroom. What can you do now to smooth that transition from bedroom to home office? Talk to your builder about how you can add space and flexibility. It might involve wiring, adding storage space or ventilation. Are there ways you can do that while preserving the "bedroom feel" of the room for now?
Maybe you've always wanted a craft room—someplace you can work without worrying about always putting things away when you're in the middle of a project. Maybe the basement recreation room, which the kids will use immediately,could be turned into a craft room later. How can you design the space so that it meets those needs now and can have a "second life" as a craft room later?
And how about your family room? Maybe your kids like to have their friends over for gaming and hanging out. You need a little bit of extra space for that. But how can you build the space so that it can also function well as a room where you watch movies with your spouse or have casual conversations with your friends?
On the other hand, be cautious about adding on space that can only be used for one purpose. A room that's created exclusively for a pool table or a home theater or an in-home gym may be hard to adapt for other purposes if your habits or needs change. And if the space is too specific, it may even hurt your home's resale value down the line.
If you're looking for ideas on how to create great spaces in your home, check out our free 2016 Home Design Guide eBook. A little planning—along with consultation from your builder—can help you create spaces for multiple uses. And it's always good to keep your options open!