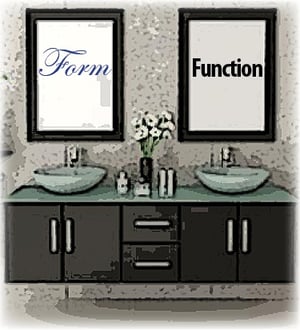 "Vanity, thy name is ... Form or Function?" OK, that's not really how the famous quote reads. But it raises a valid question: should your bathroom vanity be all about making a statement ("form") or about providing utility ("function")?
To some degree, the answer depends on which bathroom you're talking about.
If you're considering remodeling the powder room in your Fingerlakes-area home, you can have a lot of fun making a statement (while still providing plenty of functionality). Your powder room (or guest bathroom, if you prefer) is a place where you can be a bit whimsical and playful. It's a room that guests see and use, but it can be stylisticallydisconnected from the rest of the house.
Many homeowners use this small space to make a design statement or to simply create a space that's a bit fun or different from everything else in the home. You can experiment with country-style vanities or sleek, modern vanities, or no vanity at all! You can use dramatic colors that you'd never consider using in the rest of your home. It's really a fun room to play around with.
If, however, you're talking about your master bathroom, we're having an entirely different conversation. This is a room that fulfills a specific function. That doesn't mean your master bath has to be boring or dreary, but it must be convenient, first and foremost. The master bathroom is where you generally begin and end your day. You want it to be highly functional, with enough space and light to apply makeup, shave and wash your face.
You also want your master bathroom vanity to be practical and well-appointed. When you're groggily standing in front of it in the morning, or tired and ready for bed at night, you're probably less concerned with how it looks.That said, appearance is important. In many master bedrooms, the vanity helps set the mood for the entire room. It should look lovely. But this feature must also make getting ready for your day (or night) convenient, easy and pleasant.
Our free 2016 Home Design Guide eBook has some great ideas about how to create the bathroom (or powder room) that's just right for you.You can download it for free here!