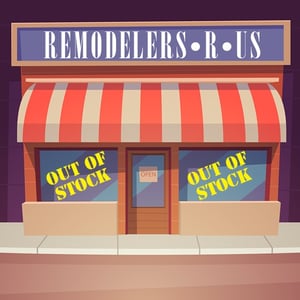 You don't have to look too hard to find a remodeling program on television. Take your choice between Property Brothers, This Old House, Design on a Dime, Extreme Makeover, or whatever else catches your eye on the small screen. There's no question that Americans have remodeling on their minds.
So does that have an impact on you if you're planning to remodel your Rochester area home? According to National Public Radio (NPR) it might. A recent broadcast and article suggested a very significant situation: There's a Home Renovation Boom But Good Luck Finding a Contractor. Does the popularity of remodeling mean you can't find a good contractor in the Rochester area?
While it's true that remodeling contractors can be in high demand, don't fall prey to contractors who enter the market looking to take advantage of the situation. Remodeling your Rochester-area home is a serious undertaking. You'll want to make sure you take the time to select a remodeler who can deliver the results you really want.
Just because someone has a hammer and a saw plus a business card doesn't mean he has the skills to tackle the kind of remodeling project you have in mind. We've been building and remodeling homes in the Finger Lakes region for three generations and we've successfully completed a wide range of home remodeling projects that range from kitchen remodels to bathroom remodels to in-law additions of a variety of complexity. Here's a look at some of the remodeling services we provide.
Keep in mind that remodeling your home isn't an overnight project. You'll be living with the results for years to come, so you want to make sure the plan is right and that the work is excellent. And you'll also want to make sure that whoever does the work will stand behind it—and will be around for years to come. We're lifelong residents of the area. The people for whom we remodel aren't just customers; they are our friends and neighbors. You won't get the same attention and dedication from someone who's trying to make a quick buck while the demand is high. Here's a helpful post that can guide you through the process of choosing the remodeler that's right for you and your project.
Make sure you select a remodeler who will help you think through what you need before you start tearing things apart. A remodeler who's only interested in making money will pressure you to get moving. That's not the way to approach an improvement to your home. A reputable and reliable remodeler will help you with information that helps you identify your goals and take the right steps to achieve them. So let's say you're planning to remodel your bathroom. A good remodeler will get you to think about more than just the tub and the sink. Here's an example of the kind of information a good remodeler will provide for you.
Does the popularity of remodeling mean you can't find a good remodeler in the Finger Lakes region to take on your project? Of course not! You just need to take your time and not feel pressured to work with contractors who are here today and gone tomorrow. Select a remodeler who will makes sure your project holds up for years to come—and will be here to stand behind the work.