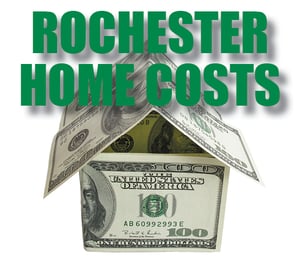 Our family has been building homes in the Rochester area for more than 50 years. In fact, we've built more than 3,000 homes in that time. And there's one question potential homeowners have asked us every single time: "How much is this going to cost?"
We're actually kind of glad when someone asks us that question because anyone who jumps into the homebuilding process without considering the cost is probably headed for trouble. Talking about the cost of building a home is a reasonable and responsible thing to do—and we're happy to do it.
When prospective homeowners ask about cost, many of them do so in terms of the cost per square foot. The national average for building a home (aside from the lot itself) runs from $64 to $150 per square foot. Our pricing at Gerber runs approximately from $85 to $125 per square foot.
Why is there such a range? While there are a number of factors that can enter into a home's cost, for the most part the difference in cost comes down to two main factors: The complexity of the home's design and what materials will be used in building (and finishing) the home.
The Complexity of the Plan: At the risk of oversimplifying things, simple designs are easier to construct. A basic rectangle takes less time and material to construct than something with a lot of angles. Fewer materials and less labor means lower cost. So even if you have two homes that are 3,000 square feet in size, the home that is less complicated to build will cost less.
The Materials: Since it is one of the more expensive rooms to build in a house, let's use the kitchen as an illustration. Granite countertops cost more than laminate countertops. Hardwood or stone flooring costs more than vinyl flooring. Solid wood cabinets cost considerably more than fiberboard cabinets. A natural stone sink will cost more than a basic stainless steel sink. It's not just the materials themselves that are more expensive. Some materials are harder to work with and require a lot of expertise. That ends up costing more.
There is one other area that can cause homebuilding prices to vary: Customer-requested changes. It's not wrong to request changes, and it doesn't have to be overly expensive. But making a lot of changes—particularly after construction has started—can really drive the cost of your home up. Here's a helpful article about how to control cost creep when building your home.
What will your Rochester-area home cost you? That depends on the size and complexity of the home you choose, and on which materials you use to build. The smart way to approach the situation is to decide on a realistic budget and then work with your builder to find/create a plan that will give you what you want within that budget.