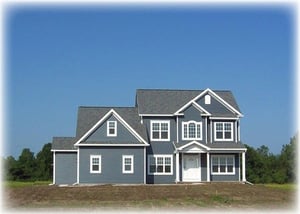 If you've spent much time looking at floor plans for a new home, you've probably come across some plans that look great on paper and have a lot of style, but aren't really designed for the way real families live. And while style and aesthetics are important, you really want your home to deliver comfort and convenience. Welcome to the Southmore!
This beautiful 2,431 square foot home (2,657 if you choose the finished Bonus Room option) offers lots of living space you can really use. On the main level that begins with the 2-car garage that includes almost 150 extra square feet of always needed storage space. The Southmore's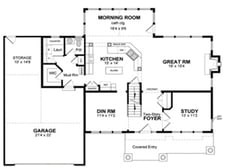 design takes into account that most of us enter our homes through the garage on a daily basis. That's why you'll find a mudroom right off the inside garage door entrance that has a large walk-in-closet and easy access to the laundry room.
The common areas of the main level are designed for comfortable living as well. The spacious kitchen opens to the large Great Room and to a Morning Room where you can enjoy casual meals. But there's also easy access to the separate Dining Room for more formal meals. There's even a study at the front of the house, which could easily be a great home office or a craft room—or whatever you want it to be.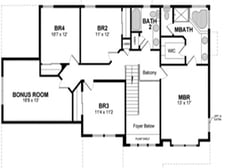 The upstairs gives you plenty of space as well. In addition to the Master Suite (with walk-in closet) there are three additional bedrooms and another full bath. Plus, there's a large Bonus Room that could be turned into a Family Entertainment Room of a second Family Room. And you can either finish it immediately or wait until you need some room for expansion.
Click here to take a closer look at the Southmore floor plan, or click here for photos of the actual home.
The Southmore has it all: Style, comfort, and practicality with enough flexibility to fit your family's lifestyle.