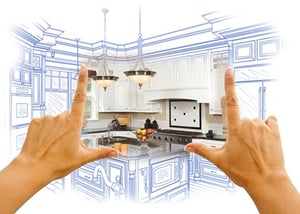 Talk to virtually any builder, designer or homeowner who has been through the custom homebuilding process and they will tell you the importance of paying special attention to the kitchen in your new home. One of the temptations homeowners face when thinking about their kitchens is to focus on style before substance.
The look and feel of your kitchen is extremely important, but before you spend too much time on things such as appliances, flooring or even cabinets and countertops, you really want to do some thinking about how you'll be using your kitchen—and what will enable you to use it the way you want.
Space:

If

you're really not planning to spend a lot of time in the kitchen, and you don't expect family and friends to congregate there, you can get away with a smaller space. To be honest, the trend across the country has been toward larger kitchens because they have become a social center for the home. Part of your considerations should include how the kitchen flows into other rooms—in particular the family room. That's where open floor plans such as

 

The Walton

 

really shine. This particular plan is open all the way to the family room and even includes a breakfast nook for casual family meals.  This allows the host or hostess to be involved with guests even while preparing meals.
Storage:

You can never have too much storage! And if you should opt for an open floor plan where the kitchen is in plain sight

of

other rooms, this is even more of an issue. So when it comes time to order your kitchen cabinets, pay as much attention to the amount of

available

storage space as you do to the finish on the cabinets. Look for cabinets that have deep, slide-out shelving. That way you'll be able to store even larger items at the back of the shelve

s

and still be able to retrieve them easily.

And you may want to talk to your builder about taking advantage of unused space for things like built-in spice racks or narrow cupboards for storing cookie sheets and pizza pans. You might even want a floor plan such as

T

he

Wainscott

, which includes a corner pantry for additional storage.
Layout:

How do you want your kitchen to be arranged? Before deciding on a design, think through how you like to work in the kitchen. Some homeowners prefer an L-shaped kitche

n design. Others favor a galley-

style kitchen where the counters run parallel to one another. Kitchen islands are very popular (and convenient) because you're never far away from a useable surface. But before you decide, try to mentally put yourself in the kitchen you see in your plans. Is

the sink where you want it? Is the refrigerator positioned conveniently? Where do you want cutting surfaces?
Light:

Never underestimate the importance of adequate lighting in your kitchen. Will your plan maximize natural lighting? Where will you locate task lighting (for cutting and cleaning)? And don't forget about ambient lighting. When you're done cooking

,

there's a good chance that family and friends will still be hanging out in the kitchen, so you'll want to make it visually comfortable and inviting.
Once you've tackled the things that really matter in your kitchen, you can move on to creating the look and feel you want with countertops, flooring and cabinet finishes.