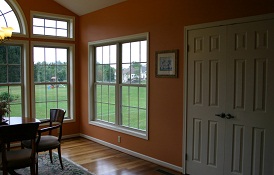 When considering flooring choices, new home owners have a choice of Hardwood, Engineered Wood, or traditional Carpeting.
But before we look at each option, we need a history lesson. 100 years ago, everyone had hardwood floors. Many homes built in the 1800′s still have their original hardwood floors, and they look great. Depending on the home's use, the hard wood may look at little distressed, but it's good to go for another 100 years. A little sanding, a little TLC, and you have a brand-new floor.
But everything changed in the 1970′s. OK, granted, the 1970′s were a creative decade, but honestly, Shag Carpeting? What were we thinking? It only got worse when we insisted this flooring disaster be avocado green or burnt orange.
Perhaps home owners thought the shag carpeting would look good with the Bean Bag Chairs. Or the gold speckled white Formica in the kitchen. Shag carpeting and bell bottoms were not our finest hour.
During the 1970′s we added wood to paneling to everything. Not the floor mind you, no, we paneled the walls. Even our Station Wagons.
I like to think we've come full circle. We know there's a place for carpeting, and a place for wood. And, we use both in a practical, yet beautiful way.
New home builders like Gerber Homes of Rochester NY think how a room will be used. Gerber Homes is a family company. They understand we spill things in the kitchen. That we want plush carpeting when we step out of bed each morning.
For instance, Gerber Homes' Webster NY model home. There is Engineered hardwood in the Kitchen, Dining Room and Morning Room. Also in the hallways downstairs. These are high-spill areas. The new home owner can easily take care of the spill and get on with life.
I learned something about Engineered wood floors. You can have the beauty of mahogany, cherry, and other expensive woods, for a fraction of the cost. These floors last years with very little care. Run a duster over them, and you're good to go.
The best way to see different floor options is to stop by Gerber Homes' Webster model home. Lisa West is an expert on flooring. You'll see different floor samples, and then see how an entire floor looks in mahogany. It's really quite impressive.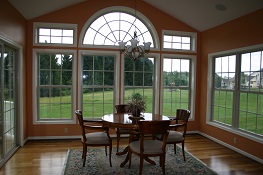 While you're there, ask Lisa about the 13 new Colonial floor plans Gerber Homes has just added to their portfolio! As always, Gerber Homes will tailor make your home to fit your needs. Contact Lisa today either by email or phone: (585) 329-1922. Give her a call today!