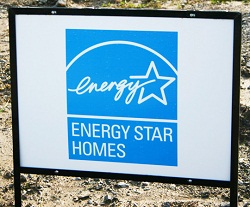 Gerber Homes Rochester NY is a new home builder who has always been ahead of the times.
They have been building Green for a long time. Only now, with the Energy Star home they are building in Canandaigua NY, they will have the certification to prove the qualifications.
In order to earn the Energy Star rating, a home must meet guidelines set by the U.S. Environmental Protection Agency. The new Gerber Home will be inspected step-by-step to prove it meets the specifications.
In order to earn the Energy Star Rating, a new home must have:
Effective Insulation: Properly installed and inspected insulation in floors, walls, and attics ensures even temperatures throughout the house, reduced energy use, and increased comfort.
High-Performance Windows: Energy-efficient windows employ advanced technologies, such as protective coatings and improved frames, to help keep heat in during winter and out during summer.
Tight Construction and Ducts: Sealing holes and cracks in the home's "envelope" and in heating and cooling duct systems helps reduce drafts, moisture, dust, pollen, and noise.
Efficient Heating and Cooling Equipment: In addition to using less energy to operate, energy-efficient heating and cooling systems can be quieter, reduce indoor humidity, and improve the overall comfort of the home.
Efficient Products: ENERGY STAR qualified homes may also be equipped with ENERGY STAR qualified products — lighting fixtures, compact fluorescent bulbs, ventilation fans, and appliances, such as dishwashers.
Third-Party Verification: With the help of independent Home Energy Raters, ENERGY STAR builder partners choose the most appropriate energy-saving features for their homes. Additionally, raters conduct onsite testing and inspections to verify the energy efficiency measures, as well as insulation, air tightness, and duct sealing details.
Watch for more posts of our new Green Home being built. Gerber Homes isn't changing the way they build, only with this Canandaigua NY home, they will have the Energy Star Certification they rightfully deserve.
Click here to find out more about Green Building or contact Gerber Homes.