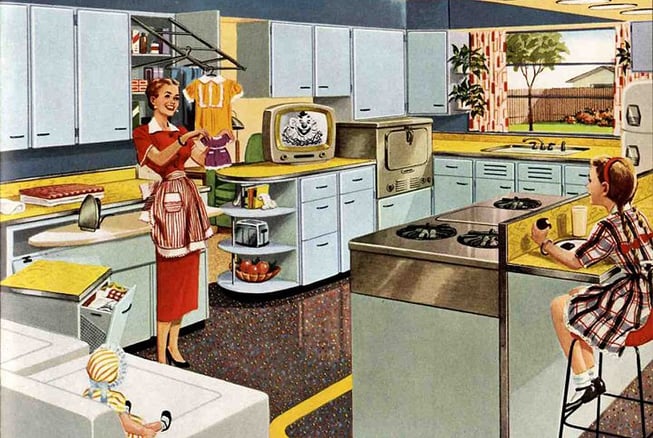 If the phrase, "The kitchen of the future" has a familiar ring, there's a good reason: It has a long history. As far back as the World's Fair in Chicago in 1983, there was an exhibit called "Homes of Tomorrow" in which kitchens were prominently featured. Despite major changes in technology (and society) homeowners are still looking for ideas to create their dream kitchen.
Your dream kitchen, however, may not look exactly like your neighbor's kitchen. That's because your personality (and your "kitchen personality") is uniquely yours. To be honest, the kitchen of the future probably isn't exclusively about gadgets and technology. What makes a kitchen a great kitchen is that it is designed to fit the way you live and to make things more comfortable and convenient for you.
That depends more upon good design than it does upon gadgetry. It means having well-designed space in the kitchen that makes it easier for you to prepare meals. Of course, kitchens aren't just about food preparation anymore. Our kitchens are very social spaces where we often eat casual meals with our families and entertain guests.
What that means is that when you peruse potential floor plans for a new home, you'll want to think about how you'll be using your kitchen. Will you want an open floor plan that allows you to be in the kitchen without being separated from family and guests? If you're an avid cook, you may want the space to allow you to pursue your passion and have specific spaces set aside for particular tasks. If your kitchen is more of a social gathering space, you may put a premium on open space and seating.
You'll also want to look at features that make working in the kitchen more enjoyable. Cabinets with pull-out shelves are a growing trend because they make it so much easier to access items at the back of the cabinet. Installing the right lighting in your kitchen is another (often overlooked) element that can make your kitchen a delight to be in (here's a helpful post that goes into more detail about that).
What About Those Cool Gadgets?
I'll admit that there is something incredibly intriguing about new technology and new kitchen gadgets! Let's face it; they're fun and sometimes worth every penny. Here's a look at just a few kitchen innovations that really seem to cook (if you'll pardon the expression).
Tastingtable.com recently published a list of Smart Gadgets That Will Futurize Your Kitchen, and here are a few of the devices they listed that caught our attention.
Cinder Precision Grill: This countertop grill involves a complex set of sensors and monitors that solve sous vide's biggest drawback: still having to brown your food after it's reached its final temperature. The controlled heat output offers the precision of a sous-vide machine with the ease of a George Foreman-type grill, meaning you get a golden rib eye cooked internally to a perfect medium rare without the hassle of water baths and vacuum sealer sleeves.
Drop Kitchen Scale: This svelte smart scale not only weighs your food, it also gives easy-to-follow cooking instructions via its companion app's illustrated recipes. The app guides you through each step, component by component, and will even resize the entire ingredient list if you find out you're short a tablespoon of butter.
June Intelligent Oven: An internal camera and built-in scale help this sleek smart oven recognize what it's cooking, allowing it to calculate exact temperatures and times.
Crock-Pot Smart Slow Cooker: Everyone's favorite weeknight dinner wizard gets a serious upgrade with WeMo, the smart home automation app. A few clicks can extend or delay your chili's cooking time, keeping it from bubbling over or going cold before you're ready to eat.
So go ahead and have fun exploring these (and other) gadgets as you put together your dream kitchen. But begin by finding a floor plan that really meets your needs and fits your family's lifestyle! Bon appetite!