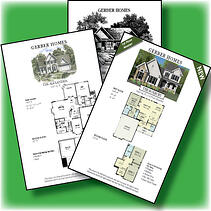 Dream homes don't just happen over night. They take a lot of planning and there are a ton of details to keep track of. Of course, choosing the right builder can make a lot of those details a lot easier to manage. But even after you've found a builder with whom you feel confident, he can't build your dream home without a plan.
So how do you go about choosing the plan that's right for you? Some builders will offer you plans that they feel comfortable building. But is that the right plan for you and your lifestyle?
At Gerber Homes, we think floor plans are a great starting point—but they shouldn't keep you from building the home that really reflects your personality and lifestyle. That's why we offer an extensive selection of floor plans that give you lots of choices. Here are just a few:
And each floor plan we offer is customizable with numerous options. Nothing is set in stone until you say so! And if you still don't find what you're looking for, you can enjoy the outstanding quality and craftsmanship of a Gerber home. Just bring in your plans and we can review them together to make your dream home a reality.