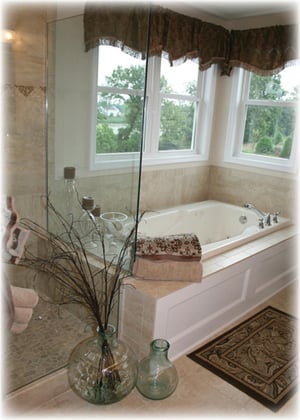 Whether you're building a new custom home or remodeling an existing home in the Rochester area, you don't want to settle for a "boring bathroom" in your Master Suite. After all, the Master Bath is perhaps the most personal and private room in your home. What does it take to make it a marvelous master bath? What are the essentials?
The answer, of course, depends on what you want and like, but here are a few ideas to jump-start your creative thinking when it comes to this very special room.
Keep the Commode Separate: While there have been a lot of advances in toilet technology over the years (and a lot of nice design touches as well), when you get right down to it, a toilet usually isn't on anyone's list of things to focus on in a room. Consider locating your toilet in a separate, enclosed space. It's a nice touch of class for your master bath.
Double Sinks: Is having two sinks in your bathroom an essential? For some homeowners it is. It's nice (and less stressful) to have your own space for getting ready in the morning. So if you can make room for it, it's a great feature to build into your bath.
Warm Floors: It's hard to appreciate a beautiful bathroom when you step out onto an ice-cold floor. You may want to take a look at radiant-heated floors. These floors may cost a bit more to install, but energy-efficiency of the heating can make up for that. And while you won't see this feature, you'll definitely feel it!
Install a No-curb, No-glass Shower: There's something very elegant about a shower that has no glass door and no curb. It can also make the room feel more spacious. But there's more to this feature than simply looks. Access to the shower is a lot easier. And if you're planning to stay in your home for years, that something you may want to consider. It's also a nice feature for resale if you sell to someone who plans to age in place.
Let There Be (Natural): Dark bathrooms can feel dingy and claustrophobic. But that doesn't mean you have to go overboard on light fixtures. Another option is to install narrow windows or glass tile blocks above your vanity and even above your shower. Placed strategically, they still provide privacy while letting in natural light.
Go Ahead and Vent: Most of us don't automatically think of the bathroom fan when coming up with design ideas, but without adequate ventilation, you won't enjoy the room as much. Bathrooms with peeling paint or mold aren't all that attractive! But just moving air isn't enough. A loud, rattling fan can destroy the serenity of your bathroom, so make sure you get one that's efficient and quiet.
Those are just a few suggestions for features that can make your new or newly remodeled Master Bathroom—simply marvelous!