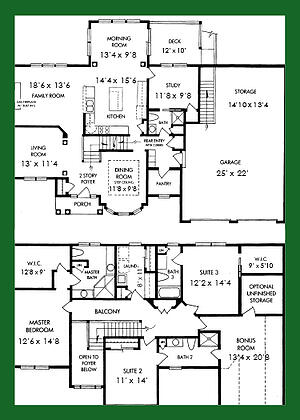 One of the most important parts of the homebuilding process is selecting the right floor plan for your new home. It seems pretty straightforward, but it can be a little more complicated than it sounds.
Not everyone looks at floor plans in the same way. As builders, we look at a floor plan and visualize what needs to happen in each area of the home to create the end product—your dream home. But homeowners have a completely different perspective when reviewing floor plans. They're not thinking boards and drywall and wiring—they're thinking about finished rooms. That's not always easy when you're staring at black lines on white paper. So what should you look at when you're reviewing a floor plan?
Let's use the "Ashton" floor plan you see pictured here as an example (you can look at a larger version of the floor plan here).
Think about the flow of the home. Use the floor plan as a map to do a "walk-through of your potential home. In your mind, pull your car into the garage (this is how you'll enter the house most of the time). Think about the extra storage space in front of your cars. Then step into the rear entry. You've got a pantry on your left for easy unloading of groceries. Imagine yourself walking into the rest of your house—with your kitchen off to the right that flows into the family room. The living and dining rooms are set off away from the kitchen, and the study (perhaps a home office?) is tucked away from distraction behind the kitchen.
Think about specific rooms. Take a walk upstairs and look at the layout. Use the dimensions on the floor plan to get a sense for room size and where specific pieces of furniture can go. Will the layout allow you to configure your furniture the way you want? Notice that the laundry is on the second floor (near all the bedrooms). Is that where you want it located? Do you like having a view to the lower level from upstairs? Do you want all bedrooms on the same level?
Make sure the plan fits you. Perhaps the most important thing to remember is that the plan should fit your lifestyle. Don't try to make your lifestyle fit the plan. This (Ashton) plan is just one of many options that cover a wide variety of styles and sizes. It's simply a tool—designed to help you determine if the layout and size of the home are a good match for your family.
You can check out additional floor plans and sort them according to style, square footage, or number of bedrooms and bathrooms. After narrowing your selections down, take a mental tour through the ones you like to see if they fit your needs.