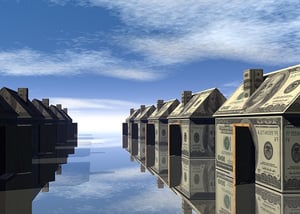 A lot has changed in the homebuilding business since we began building custom homes in the 1950s. But one thing never seems to change: homeowners are always concerned about their budgets.
It doesn't matter whether you're building in Ontario, Webster, Perinton, Canandaigua, Mendon or elsewhere in the Graster Rochester and Fingerlakes area. And it also doesn't matter if you're looking at building a smaller, 1,040 square-foot home or a larger, 3,600 square-foot home. Your budget matters!
Of course, creating a realistic budget is a crucial part of the homebuilding process. And while it's important that you don't overextend yourself by purchasing more house than you can really afford, it's also critical to make sure you don't under-budget and spend less than you should to get what you really want. That can actually cost you more if you have to add features or space later. Here's a post that can help you avoid those kinds of budget missteps.
That raises a couple of really important questions about how much you should spend on your home: What are you getting for your money? Will spending more money on your Rochester-area home guarantee you more value?
Ultimately, it's not really about how much money you spend (or save), but how much value (comfort, enjoyment, convenience, sense of well-being) you get for whatever sum you decide to spend.The fact of the matter is that not every expenditure generates the same kind of value. So if you're going to spend more on a new home, where does it make sense to invest your money? Here are a few suggestions:
Your Kitchen
In all our years of homebuilding, we've never had a client complain that the kitchen in their home was too big. Kitchens today are such a central room in the house, and they get a lot of use. Spending a bit more for counter space, adequate cabinet space and even more square footage is something you won't regret.
Your Family Room
This is another room you'll use extensively. When your family isn't in the kitchen, this is where they will probably be. This living space should be designed to accommodate the whole family. It may not need to be cavernous, but if your budget will allow it, making this room a little larger will make it that much more comfortable and enjoyable.
Master Bathroom
Along with the kitchen, the master bathroom is the most likely room to be remodeled. Why? Because it gets used everyday, and many people feel their existing bathroom is simply inadequate. People want a space where they can comfortably get ready for their day. You don't have to turn your master bath into a spa (unless you want to…and here's a great guide to help you plan "the ultimate bathroom"), but you'll want it to be comfortable and to adequately meet your needs.
Room Size
Bigger may not always be better, but building too small can turn into a problem later. A tiny bedroom may be adequate for a baby or a small child—but what about when that child is a teenager? Increasing the size of a room or adding a new room later will cost much more than building a bigger room to start with.
While this isn't an all-inclusive list, it should get you started in thinking about what you'd want to spend a bit more on in your new home. You may notice that the suggestions listed here have less to do with how you home looksand more with how your home feels and meets your needs. That's how you create value in your home. Not surprisingly, it's alsohow you'll see the best return on investment, should you decide to sell your home down the road.