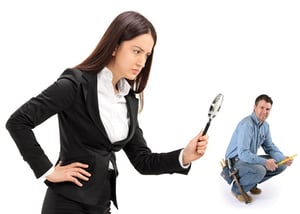 If you're doing your homework about building a new home in the Greater Rochester area (and we hope you are!), you've probably run across an article or two about keeping an eye on your builder once construction starts. Is it really as big a deal as some homeowners make it out to be?
Sadly, there are too many homebuilding tales of woe to ignore this issue. How much is enough when it comes to monitoring your Rochester-area builder? Are you going to have to micromanage every single step of the homebuilding process?
It doesn't have to be that way. You really can get the house you want without driving yourself (and your builder) crazy by watching every move he makes. But it does require some work up front on your part. The real way to lessen your stress during the building process (and still get the home you want) is to make sure you choose a builder you trust, respect and feel comfortable with.
Here's an article that talks about what to look for in a quality local homebuilder. These pointers can be a big help in making sure you end up with a contractor you can trust and work with. It's really worth it to take the time before you sign a contract to make sure you're comfortable with your builder; it will ensure your peace of mind throughout the building process.
So does that mean you walk away from the project once you sign a contract? Not at all! It's still your home, and one of the great things about building a custom home is that you get to make choices about how your home is built. That means talking with your builder and making decisions along the way.
The smart way to do that is to make sure you and your builder are on the same page from the beginning. Once you've decided on a builder, you'll also want to talk about how to communicate. That should include agreeing together about how often you need to meet or talk on the phone. Your builder will want your input. What he or she doesn't want (or need) is to have you "supervise" the actual work. Your job is to educate yourself about what you want in your home and clearly communicate that to your builder. Then you need to let him or her do the job. Will you want to be kept abreast of progress? Of course! But you and your builder should talk about the best way to do that so the arrangement makes sense for both of you.
Here's a helpful, free e-book that can give you an overview of the process and prepare you for making the right design choices (and even help you select the right builder). The main thing is that if you take your time up front to choose the right builder, you simply won't need to spend hours monitoring every step of the construction. You'll be able to relax—and then enjoy your new Rochester-area home.