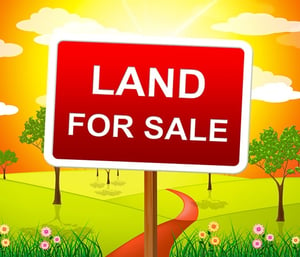 One of the biggest decisions you'll need to make before building a new home in the eastern Rochester area is where to build your home. The property your new home sits on plays an important role in how your home looks and feels. And it impacts your quality of life in so many ways.
It would be nice if you could simply take a drive into an area that you'd like to live in until you see a sign that says, "Land for Sale," and then follow a path into the sunset where your dream house can be built. Most of the time, however, it doesn't work that way.
There's more to selecting the right piece of property than simply finding some open space with a nice view. First of all, you need to be able to find the right property. While some lots may show up in the MLS listings, the pickings there are sometimes kind of slim. Builders often know about property that's coming up for sale before that property hits the MLS lists.
Finding the property, however, is just the first step. You'll still face a number of critical questions. Things may look great on the surface, but what's below the surface? Is the lot suitable for building? How much preparation work (digging and grading) will be required to build safely? Will drainage be an issue? Will you have access to water or will you need to drill a well? What about sewer lines? Will you need to put in a septic system? And what about building restrictions or covenants? Will you be able to build the home you have in mind, or will you have to make changes?
We've been building homes in the eastern Rochester and Finger Lakes region for many years. We know the territory, we know the land, and we know when and where lots are available. We partner with other trusted professionals who keep us informed about new areas to consider. And with years of experience under our tool belts, we know what it's going to take to make the lot you like ready for your home.
That's why we offer a no fee land consulting service that includes locating the land, providing an evaluation of the site cost, recommending floor plans for a particular parcel of land, and a review of septic or well requirements. All of those things are critical pieces of information for you to have at your disposal before you purchase property.
We also build great new communities, such as Summer Lake, Old Brookside, Briarwood, Summer Lake, and Magnolia Manor (And we even have model homes in each of those communities if you want to get a "hands-on" feel for the homes in that area). So whether you want to build on your own lot or on one of ours, we can help.
Don't leave your lot choice to the luck of the draw. Take advantage of our knowledge and expertise to make sure you get the piece of property you really want!