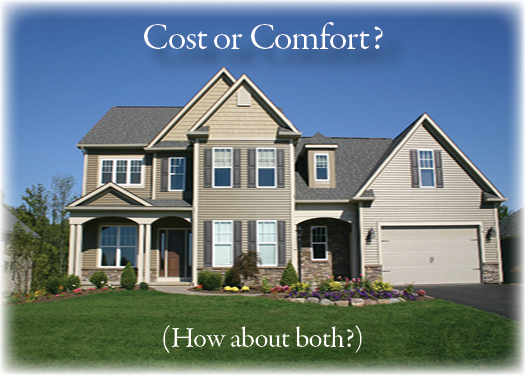 There's a lot to like about the Eastern Rochester area. It's no wonder that the Finger Lakes region is a popular tourist destination. Some of us are lucky enough to live here year-round. And for those of us who do reside in Eastern Monroe, Northern Ontario or Wayne counties, the overall cost of living is something worth liking as well—coming in at about 84 percent of the average cost across the United States (according to Sperling's BestPlaces).
There is, however, one area where the cost of living in the Rochester area exceeds the national average: the average cost of utilities comes in at 14 percent higher than the national average.
There are at least a couple of reasons for that. Anyone who has lived through a winter in Rochester has a pretty good idea of how the weather impacts your ability to keep your house warm. But what you may not be aware of is that the median age of houses in the area is 73.6 years (compared to 35.1 years for the rest of the country). That's significant, because the building practices and technologies in use today are a lot more energy efficient than those from several decades ago. If you've been thinking about building, you can take advantage of these advances in building materials and techniques—and put a lid on those higher-than-average-utility costs.
Of course it's not just about saving money on utilities. Whether you build or remodel, it's about creating a comfortable, inviting environment in the place you call home. And we can help you make that happen, with the plans that are right for you and the skilled craftsmen who can turn those plans into reality.
Does it make more sense for you to build new or remodel? That depends on your individual situation. Download our free Create Your Dream Home e-book. In addition to helping you decide whether building or remodeling makes the most sense for you, this e-book provides helpful information about everything from choosing a color scheme for the bathroom to selecting a kitchen theme that reflects your personality, to finding a contractor and applying for financing—for either building or remodeling.
It's a great way to get started on the process of creating your dream home—and keeping the cost of staying warm under control!