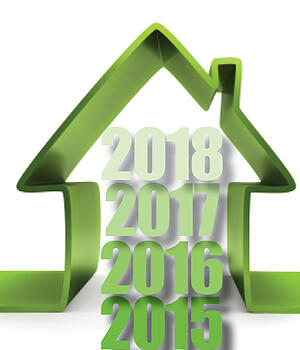 One of the challenges of building a new home is that life doesn't stand still. Our tastes—and our needs change over time. What seems like an absolute necessity today may not be all that important a year or two down the road. Similarly, features that are all the rage today may not be as popular in a few seasons.
If you happen to have small children, it's easy to plan your house around the way they are now. But small children turn into teenagers in what seems like the blink of an eye. And when they do, your house needs to be able to accommodate their changing needs.
How do you plan for that without some special crystal ball skills that enable you to look into the future? While nobody can tell you exactly what to expect, one thing you can do is take a bit of time picking out the floor plan for your home. As you look at plans, you'll of course want to think about your current needs. But as you look at the configuration of rooms in your potential home, try to envision what things will look like a few years down the road. Having a 3-year-old boy and a 5-year-old girl share a bedroom may be great for now. But what happens when that little girl hits 11 or 12 years of age? Do you have room for expansion? As you check out floor plans (and we have an abundance of floor plans for a wide variety of home styles here), look at how many rooms you need now, and how many you might need in a few years. Look at bathrooms. Kids can share for a while, but will that need change as well?
Something else that will help you keep loving your home is to make sure you get the quality you want and that your home is designed to meet your needs. That means finding a builder who will listen and make the adjustments necessary to build you the home you really want. We love doing that, and we know that our clients appreciate it. Here's a comment from someone who experienced that first-hand:
We built our dream home last year and choose Gerber Homes as the builder. We can truthfully say that we are happier with our new home now than when we first built it. Gerber was a great company to work with. They listened and designed the home we wanted. The building process went great and the house is fantastic. — The Lamberts
So as you're thinking about building a new home in the Rochester area, plan ahead as you look at floor plans—and get a quality builder to listen to what you want and build you a quality home you'll love for years to come!