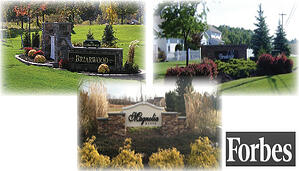 Picking the right place to live is kind of a big deal. We live in a big country and we have a lot of choices when it comes to selecting the place we're going to call our hometown. So why would you pick the greater Rochester, NY area?
None other than Forbes magazine listed the Rochester area as number 45 in its list of Best Places for Business and Careers. Here are some of the things they looked at in making that selection.
Metro Population: 1,057,100
Major Industries: Technology, Education
Gross Metro Product: $61.4 B
Median Household Income: $53,041
Unemployment: 7.5%
Job Growth (2012): 0.6%
Cost of Living: 10.5% below national average
College Attainment: 31.7%
Net Migration (2012): -2,510
And here is how Forbes described the area:
Known as "the World's Image Centre" Rochester is located on the southern shore of Lake Ontario. Rochester is an international center of higher education, as well as medical and technological development. The region is known for many acclaimed universities, and several of them, notably the University of Rochester and the Rochester Institute of Technology, are nationally renowned for their research programs. The city of Rochester is home to numerous cultural institutions. These include the Garth Fagan Dance, the Rochester Philharmonic Orchestra, George Eastman House International Museum of Photography and Film, Memorial Art Gallery, Rochester Contemporary Art Center, Rochester Museum & Science Center, Strong National Museum of Play, the Strasenburgh Planetarium and numerous arts organizations.
Of course, we can think of another great reason to live in Monroe, Ontario, Wayne, or Cayuga counties. It's where you'll find great custom homes that give you a whole lot of bang for your buck. Check out the communities and individual home sites where we're building dream homes in the area. If you like lots of quality choices, you'll love what you see here.
If you're still early in the process of thinking about a custom home in a great area, we invite you to download our free Custom Home Guide. It walks you through the essential steps in the custom homebuilding process; offers plenty of design tips, and even helps you choose the right builder for your home.
It's just one more reason this is a great area in which to live!