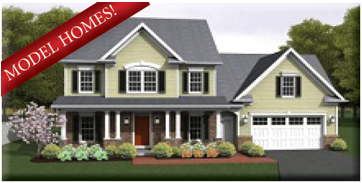 Many prospective homeowners enjoy looking through model homes. It's a great way to pick up design and decorating ideas. And for some people, seeing a floor plan that's actually built out is so much more meaningful than starting at a two-dimensional drawing. It really brings the home to life.
Maybe you're one of those people who prefers to wander the halls of a real home rather than looking at blueprints. But have you ever considered actually purchasing the model home you've been perusing? If you've never thought of doing that before, there are a number of benefits you might want to consider.
Upgrades. Models homes are showcases for builders. A builder really wants to "strut his stuff" for potential buyers. That's why model homes often have upgrades in them that make the house stand out, such as upgraded flooring, more elaborate finishes and other features that you might not find in the "standard" plans of most homes.
Attractive Pricing. Even though model homes tend to have more upgraded features, you can often get a really good deal. The builder has already paid for the materials. He's already put his labor into the structure as well. Builders don't like to be bankers. They don't want to hang on to something that's costing them money. That means they are motivated to move the property so they can use that money to build something new.
Location. Again, because models are showcases, builders often put them in ideal locations that show off the best of the development to visitors. As a buyer you can sometimes get a premium spot without paying premium prices.
No waiting. The building process takes time. When you purchase a model home, it's already completed. Your builder may need to do some touch-up work before you move in, but that will probably take days—not weeks or months. So if you don't want to wait to move in, a model home may be just what you're looking for.
You can take a look at the model homes we have on hand right now. You can even take a virtual tour of most properties so that you know exactly what your options are. So if the idea of getting upgrades, attractive pricing and great location—with no waiting—appeals to you, take a look at our models!