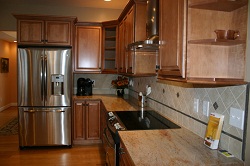 I recently visited Mike McPherson at his Colyer Crossing model home in Victor NY. I was amazed by this beautiful home and the neighborhood.
The model is called the "Gerber Daisy" and I love that. First, it bears the Gerber Family name. Next, this home has an incredible view.
It's no secret to those looking for homes, that Victor is the sought after location. The area is surrounded by new neighborhoods. Colyer Crossing sits on the crest of a hill, overlooking woods. It's almost like you have your own vacation home, just minutes from Eastview Mall. Victor basically has every shopping and dining experience you can imagine.
You really have to see the Gerber Daisy Model. This home is loaded with premium items at every turn. Everything from bamboo flooring to granite counter tops. I've never actually seen bamboo flooring before. I wondered how it compared to hardwood flooring. Wikipedia loves bamboo flooring. It's durable, strong, resists moisture, and is eco-friendly. Bamboo grows much faster than traditional trees, so it's a renewable resource. It takes about 3 to 5 years for bamboo to reach full maturity. Traditional hard woods can take 20 to 120 years to mature. In other words, it's very Green.
Plus, it's really cool looking. Yes, I took photos. I loved the many "spots" in the bamboo floor. This creates a pattern that other flooring options just don't have. I left with a craving for Sesame Chicken. When looking for flooring options, really, spend some time looking into bamboo flooring. Stop over and see Mike's model. You'll see for yourself how beautiful it is.
I also fell in love with the kitchen. I'm not sure I've ever seen anything like it. The cabinets have a grooved detail. Somehow this just accents the granite counter tops stainless steel appliances. Even the range hood is a premium item!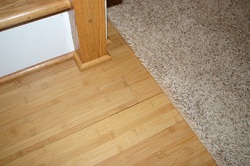 All this to say, you need to stop over and see Mike's Gerber Homes model in Victor NY. It's located just minutes from Eastview Mall and Rochester NY. The Gerber Daisy Model home has 2,731 square feet, plus a 320 square foot Bonus Room. This Bonus Room is another reason to visit this new home in Victor NY. Use it for the ultimate Entertainment Room for the family, or keep it yourself for the largest Home Office you've ever seen. Either way, it's just got to be seen! Give Mike at call today at: (585) 230-8901 or click to see the floor plan.