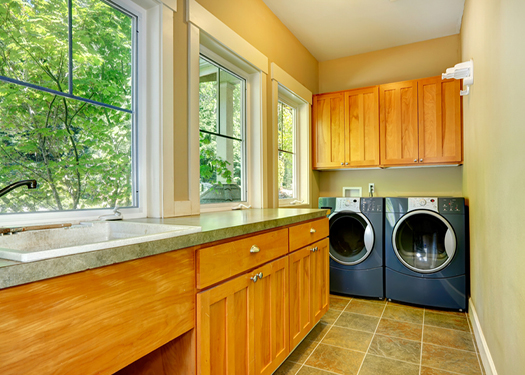 Sometimes when people think of building a custom home they get all wrapped up in the extras of homebuilding: what finishes to put in, what cabinets will be in the kitchen, what kind of flooring, what window treatments, etc. And while all of that is fun (and important for putting your personal "stamp" on your new home), one of the biggest advantages of a custom home can really be found in the basic layout. What goes where?
A huge advantage to a custom home is that you get to design it around the way you live. What makes your home more comfortable and livable?
One room where that really matters is probably the last room you'd think about when you hear, "custom home:" the laundry room. After all, it's not exactly your showcase room. You probably don't think about showing guests your laundry room when you take them on a tour of your home. But it's a room that plays a big role in everyday living—and gets a lot of use.
So as you plan your new home, where should you put your laundry room? The answer, of course depends on what works best for you, but here are a few possibilities—along with pluses and minuses for each.
In the Kitchen
On the Plus Side: You'll probably be able to use existing water lines, so this is an easy and inexpensive option. If you're spending time working in the kitchen anyway it can be convenient to throw in a load of laundry at the same time.
On the Minus Side: If you entertain a lot in your kitchen, you may not like the idea of having piles of dirty laundry around. Devoting space to the laundry can also take away space that could be used for something such as a pantry.
Next to the Kitchen
On the Plus Side: It can be really nice to have the laundry close to the kitchen. Having the laundry a few steps away gets it out of the kitchen proper, but still allows you to multi-task if you're busy in the kitchen (cooking, doing homework with kids, making shopping lists, etc.).
On the Minus Side: You may not like the noise from the washer and dryer if you use your kitchen to entertain—or if you like to eat casual family meals in the kitchen. And because today's open floor plans often have kitchens that open up to a family room or great room, the noise could be distracting to those watching TV or engaging in conversation.
Near the Master Bedroom
On the Plus Side: A lot of your laundry comes from your bedroom and bathroom (clothes, linens, towels). Having the laundry upstairs near bedrooms means less schlepping of dirty or clean laundry. Having your laundry upstairs also keeps it out of sight from most guests.
On the Minus Side: If you're used to throwing in a load of laundry at night while you're sleeping, the noise from the washer may bother you—although most washers today are pretty quiet, and you can turn down the volume on the buzzer that tells you when a load is done.
In Your Mudroom
On the Plus Side: Putting your laundry in the mudroom can make a lot of sense if you have kids bringing in dirty clothes from football, soccer, or lacrosse. That way dirt doesn't get tracked through the house. Often mudrooms are located close to the kitchen, so you've got that convenience factor again.
On the Minus Side: The mudroom is often the main entrance to the home for the family. If being greeted by a pile of dirty laundry when you enter your home bothers you, this may not be the best choice. On top of that, kids (and spouses) tend to use the washer and dryer as counter space for their "stuff." That can be irritating when it's time to actually do laundry.
Which option is right for you? It depends on what makes you feel at home. Check out some floor plans here and see what you think makes sense for you. And remember, just because you see the laundry in one place in the floor plan doesn't mean it can't be changed.