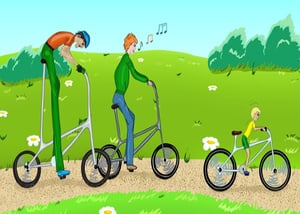 Finding the right fit in life makes everything so much more comfortable. It doesn't matter whether it's shoes, pants, or bikes—if you don't have a good fit, nothing feels right. It's the same way when you're building a home. If a home is too small, you'll always feel cramped (and probably frustrated). If you buy more house than you need, you may end up with the stress of a mortgage payment that's too big as well.
Of course it's not just the size of your home that matters. The design (and by that, I'm referring to the layout or floor plan) needs to match your needs as well. You want to make sure that the flow of the house fits the way you live now—and into the future.
That's why Gerber offers floor plans that range from a 1,040 square foot, 2-bedroom.1-bathroom home to a 3,445 square foot, 4-Bedroom/3.5 bathrrom plan (with a lot of other options in between).
There's also more to consider than sheer size and the number of rooms. You'll also want to consider whether you prefer multi-level living (with bedrooms upstairs for privacy) or single-level living (which offers convenience and takes stairs out of the equation should you decide to stay in your home even as you mature).
For instance, our Wainscott home is a single-level living home that offers plenty of space (including 3 bedrooms, 2-baths, and a 3-car garage)—and even has the option of adding a 780-square foot in-law apartment with its own bedroom, living room, bath, and kitchen.
On the other hand, if you're looking for a traditional two-level home, our Stillwater home offers 4 bedrooms on the upper level (including a Master Suite) and plenty of common space on the main level, including kitchen, dinette, dining room, great room, and even a study.
That's just the tip of the iceberg when it comes to floor plans. We have hundreds of great plans you can check out before deciding on the one that best fits your lifestyle and budget. Of course, part of having the right fit is finding a community that feels like home. We build in Ontario, Webster, Canandaigua and many other communities in the Rochester area.
When it comes to building your home, don't settle for something that isn't the right fit. Home is the place where you should feel comfortable—a place that's the perfect fit for you and your family!