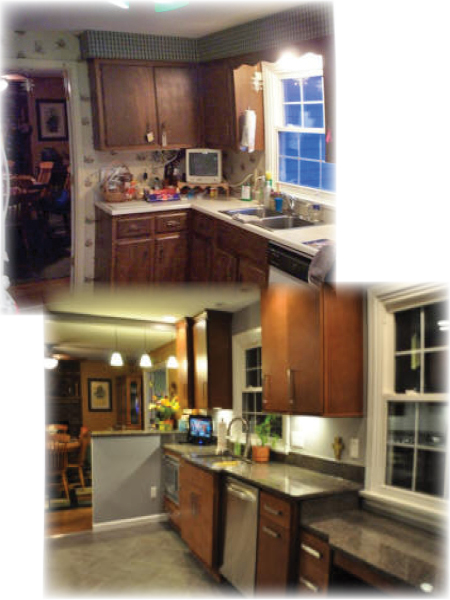 Most of us equate September with the start of a new school year. We're always telling our kids how important education is, but our kids aren't the only ones who need to keep learning. If you're considering remodeling the kitchen in your eastern Rochester home, increasing your "Kitchen IQ" before you get started is a good way to make sure you get the kind of results you want.
There is much more to a successful kitchen remodeling project than just picking out new cupboards and appliances. Sure, you'll want to make cosmetic changes, but the kitchen is far too important a room in your home to just re-touch the surface. You really want to ask yourself how you want the room to be used.
The "before-and-after" pictures of the kitchen at the right are a good example. The homeowners could have asked us to simply make a few cosmetic changes to the kitchen at the top. Instead, they did their homework and asked us to take out a wall and open the kitchen to the adjoining dining room. That change altered not only the appearance of the kitchen but the entire flow of the house. It's much more open, inviting and social.
One good way to educate yourself is to visit sites such as HGTV.com and houzz.com to see some of the great ideas others have come up with. Some of the ideas may not be in line with your tastes, but you'll get a sense for what can be done. You can also check out some of our other "before and after" kitchen projects to get an idea of the dramatic difference a well-planned and well-executed kitchen renovation can make.
Another way to improve your kitchen IQ is to download our free Optimal Kitchen Designs and Layouts design guide. In addition to providing you with great ideas for your kitchen, it will walk you through how to design your kitchen to fit your personal lifestyle. You'll learn to identify what you really want from your kitchen, and you'll find out how to work with your builder to get exactly what you want.
Now that you've got the kids back in school, further your own education! Take some time to learn the impact a remodeled kitchen can have on your entire home. And bring yourself up to speed on what it takes to make that happen!