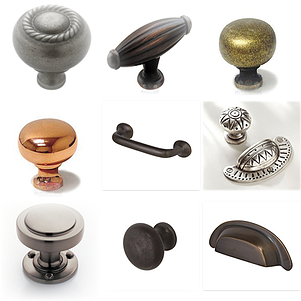 You've probably heard the old saying: "The devil is in the details." Or maybe the version you're familiar with is: "God is in the details." Either way, the point is pretty clear: small details can have a big impact on the overall outcome. That's true in your kitchen as well. And one area we see it happen is in the choosing of hardware for your kitchen cabinets.
It's something that is easy for homeowners to overlook. After all, when you're looking at pictures of kitchen cabinets online or checking out cabinets in a showroom, they always have hardware, right? But when you actually order your cabinets, you have to pick out what hardware you want to go with it. How do you make the right choice?
There are really no right-or-wrong answers. And homeowners are always trying new things to get the look and feel they want in their kitchens. But here are a few guidelines that may help you.
First and foremost, select something that works with the general style of your kitchen. Pick something you like. You're going to be living with it for a long time.
Knobs or handles? Knobs tend to give your kitchen a simpler look. They're less obtrusive. And simple shapes such as squares, circles or rectangles work well with a more modern style kitchen. More ornate hardware tends to work better with a more traditional style.
Does material matter? Again, the interior design police won't arrest you if you buck tradition, but in general you'll want to choose a style and finish that matches your décor. Conventional wisdom says that modern or contemporary kitchens are best complimented by streamlined pulls, while Old World style hardware is a good fit traditional for European style kitchens.
Many homeowners like to match the finish that's used on their appliances. But if you've got white kitchen cabinets, almost any finish looks great. Or you can pick up another element. A lot of homeowners today are matching their cabinet hardware to other features in the kitchen—such as light fixtures or faucets.
How does it feel? You don't have to sacrifice comfort for style. Remember that your hardware isn't just something you look at—it's something you'll use every day. Make sure you select something that feels right and operates easily.
The good news is that you really have a lot of options when it comes to hardware. But take your time selecting it. When you look at cabinet options, consider the hardware at the same time and consider what else will be in your kitchen. Then select something you like because of the way it looks and because of the way it feels when you use it.