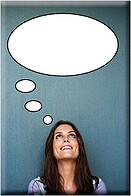 When it's time to remodel, the project most homeowners tackle after thekitchen is the bathroom. Maybe that's because they get more out of that investment when it's time to resell. Part of it, however, may have to do with the fact that the bathroom (whether it's a guest bath or a master bath) lend themselves to personal touches and can exude their own personality.
So what's the first thing you want to do when remodeling your bathroom? Before you get too wrapped up in picking out fixtures, tile, and color schemes, you'll want to do some thinking. Thought is the first thing you want to put into your bathroom! Here are a few questions to consider before you delve into the "fun" details.
Who is this bathroom for? Will this be your master bathroom—set aside for your exclusive use? Or will your kids be using this space as well. Do you have enough space to comfortably accommodate everyone?
How many sinks do you want? Some people like the look of a single sink. Maybe you do, too, but are you going to be willing to share your sink or would you rather have one for your own use. This can be really important if two of you are trying to get ready for work at the same time in the morning!
Do you have adequate counter space? Can your builder "engineer" more space without adding on to the house?
Bath or Shower? Do you prefer taking baths or showers? What about both options? Have you thought about including a whirlpool or spa? Do you want your bath/shower in the same space as your sinks—or separate?
Have you planned enough storage space? Storage may not be sexy, but later you'll be really happy you thought about it. Consider things like toiletries, first aid, medication, and cleaning supplies.
What about lights? You can vary the lighting for different parts of the bathroom according to what happens there: Brighter lighting for makeup and shaving, and softer lighting for the shower/bathing area.
Can you add "green" features? Conserving water and electricity doesn't have to be a Spartan experience. You can still enjoy comfort and luxury in your bath while being environmentally conscious.
Looking for more ideas you can use for remodeling your bathroom? Download our free 5-page guide, Design the Ultimate Bathroom here!