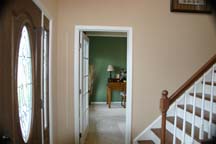 Home offices are all the rage now, and with great reasons.
It seems the way business is going. It just makes financial sense to have employees work from home. And many employees prefer the flexibility.
Part 2 is our busy lives. We need a room designated to take care of our stuff. A place for important papers, etc. And a place to set up our computer(s). This internet thing just doesn't seem to be going away.
So Home Offices become our Command Center. The hub of the house. It's where we find things. Do things. Watch the latest YouTube videos, and pass along Forwards about cute pets in Halloween costumes.
How did families survive without a Home Office? It's where soccer schedules are tacked to the wall, where peanut butter sandwiches go to die. Let's face it, we need a space just to keep our lives organized. Or if this doesn't work, a room with a door.
Gerber Homes, a premier new home builder in Rochester NY, has this Home Office thing all figured out. They are a family business, so they know a thing or two about what families need.
The Webster NY Briarwood Model Home Office is not only elegant, it's also accessible. The floor plan is designed for both business and family.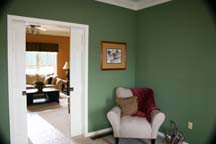 This is what I mean: When you work out of your home, you need to be able to greet customers at the door, and take them directly into your office. With the Hemingway II's floor plan, the Office is right near the front door. Don't underestimate the importance of this! I've gone through models from other home builders, and the Office is located on the second floor. Just go past the unmade beds, it's right after the kid's bathroom. Try not to stare at the Barney undies on the floor.
Since Gerber Homes is a family business, they figure most business deals will go better if customers don't see the entire house… Less stress for everyone.
The Office in Gerber Homes Webster NY model is also designed to be a part of the family. One door opens to the foyer, the other door, a pocket door, becomes an extension of the Great Room. So, while you're cuddled up on the couch watching Leave It To Beaver reruns, (taking notes on how Ward organizes his Home Office), you can monitor how much screen time your kids are getting. Plus, you're close enough to yell "Hey, make me a cappuccino while you're up!" (It could happen…)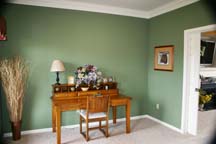 I guess the best way to see how this all fits together is to visit the Webster NY model home. It's about 5 minutes from Wegmans, and close to everything Webster has to offer. Stop by and go through the model! It's open Wednesday-Sunday, noon-5. Or just call Lisa West, the Webster rep for Gerber Homes. She can arrange a tour anytime. Call her today! (585) 329-1922. You might be interested to know this Webster NY model home is for sale. AND it's loaded to the gills with upgrades. You'll never get a better deal on a new home!!